Fiber cable to the MMR is required to establish a cross connection at the Barcelona CLS, which is the secure management area where all connections are made between the parties.
Barcelona CLS provides fiber interconnection between parties and fiber extensions via MMR Cross-connect. Our engineers install and manage the connections which run through a centralized and secured MMR.
This helps our customers to do business with minimal latency and highest security levels.
Customer can order:
» Connection between the RODF and a termination port or ODF position at the customer BCN CLS facilities.
» Connection between ports and/or ODF positions at the customer's facilities
Get your own fiber cable with up to 48 pairs of fiber strands to the BCN CLS through a dedicated subduct from any street manhole in the vicinity of the BCN CLS shown on the map, sending it to the MMR or directly to customer's own facilities.
Routes A and B provide two different access routes from outside to two separate rooms in the BCN CLS. Your fiber cable can reach your own facilities at the CLS or the MMR where we will splice each fiber strand to a MMR demarcation.
Dark Fiber Solutions
Fiber pairs between BCN CLS and Data centers in the Barcelona Metropolitan area.
Create your own Metro fiber Ring with a fiber pair on each Route.
North Route | South Route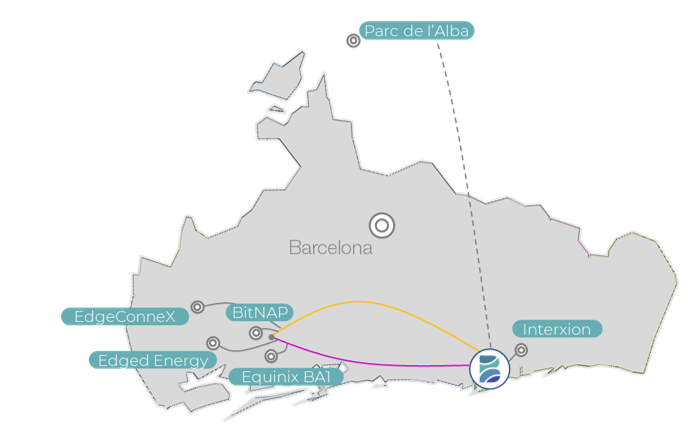 Dedicated Lambda in our DWDM metro solution connecting The Barcelona CLS and main centers in Barcelona area.
Ring protection available.
Best fitting solution for connections requirements ranging from 100Mbps up to 10Gbps.
Discover more about our Interconnection Services