Barcelona, the alternative entrance to Europe
The hub connecting the Mediterranean to Africa and the Americas
The new landing point in the Mediterranean for cables coming from Asia and Africa.
Barcelona CLS - Extensions
Barcelona CLS is the new landing point in the Mediterranean offering different extensions. From Barcelona, services can be extended over multiple terrestrial cables to:
USA by MAREA via Bilbao
UK by TGN-WER via Bilbao
Lisbon by ACE, WACS, EIG, SAT3 & MAINONE
Madrid, Central Europe & Atlantic (France) via multiple terrestrial routes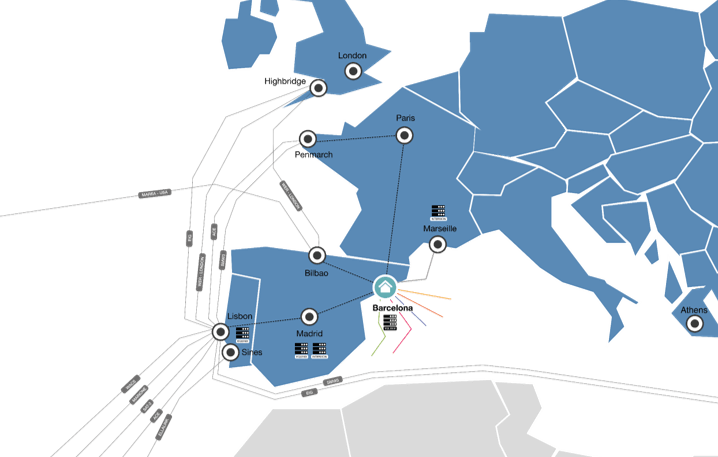 The digital port connecting Africa, the Mediterranean, Europe and North America. Barcelona CLS is the perfect location to connect Africa & Europe offering:
The shortest latency for interconnection to US via Bilbao.
The fastest interconnection to Lisbon and African cables.
Fast access to UK via WER from Bilbao.
Fiber access to the peninsula and fiber ring to Europe.
Access to Barcelona, as an ICT location.
Great location in Sant Adrià del Besòs.
What else differentiates Barcelona Cable Landing Station?


Open Access Cable Landing Station


Neutral and independent landing party


Submarine cable experts with proof tracked record


Originated in Barcelona, deep knowledge in the area and ecosystem


Open product portfolio, from Landing Party to Infrastructure provider


The fastest way to arrive to USA and Africa


Sound accessibility to the main Data Centres
Barcelona CLS, part of AFR-IX telecom group, applies group's Compliance's standards.
AFR-IX telecom aims to internalise the ethical principles and codes of conduct corresponding to human dignity and fundamental rights of the individual, as well as those of society as a whole. Read more on our 
Compliance page